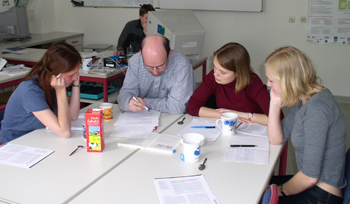 Please follow this easy "two-step" enrollment procedure:
Please go to: https://www.uni-rostock.de/en/study/study-organization/online-services/ and download the form " Application for enrolment (English version) https://www.uni-rostock.de/fileadmin/uni-rostock/UniHome/Studium/9._Referenzenpool/9.2_Formulare/Immatrikulationsantrag_Englisch.pdf ".

Return the filled-out enrollment form together with your "letter of acceptance" to the address given on the form.

Please note, if you are performing your Medical studies at our University in parallel, you may download the form Antrag auf Wechsel des Studienganges bzw. -faches.

You should mention both curriculae on the form and add "parallel" in handwriting. Then Mrs. Grimmel (head of the office, phone in Rostock: 498-1247) will accept that you are enrolled in both curriculae simultaneously.


Once you are enrolled with our curriculum, you are entitled to become a member of the "Graduate Academy" of our University.

Enrolling here is advised. Please follow the online procedure:
http://www.graduiertenakademie.uni-rostock.de/en/membership/

After having filled out this online form, you will be contacted by Mrs. Reinheckel (office of the Vice-rector for research: phone in Rostock: 498-1327), as she wishes to receive a copy of your "enrollment confirmation" as well as a copy of your " mentoring agreement" (Betreuungsvereinbarung).
We wish you successful studies for your MD and/or PhD projects !